You can call me Michael or DJ Kurious
I am a nightclub style DJ/VJ with the passion for music by reading and understanding the audience with years of experience in the nightclub scene as well as the mobile dj scene. I bring the latest and greatest in sound in lighting as well as additional services that would help make your event extra special. Im always trying to look for new innovative ways improve our service. Feel free to follow me on Instagram for the latest updates @Djkurious808

---
---
---
DJ Kurious Giving Back /Star Advertiser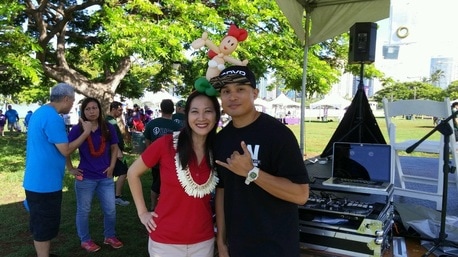 ---
Dj Kurious on Hot Hawaii Weddings Show

July 31, 2015 Check me out getting the crowd going at 19 mins into the show!!!

---
DJ Kurious Surprise Proposal July 30, 2016

Big Mahalo To My Partners/Friends/ Supporters

Proud Sponsor of

---
DJ Kurious Hawaii
© 2017 All Rights Reserved
Insurance and Licensing
DJ Kurious is registered in the State of Hawaii with a business tax license and is currently Insured with R.V. Nuccio & Associates Insurance Brokers, Inc. and Fireman's Fund Insurance Company. Documents are available upon request.
Safety and Security
Safety is our is our highest concern when doing any event. My crew and I hold many years of mobile and club DJ experience and hold a high standard when DJ events. Any crew new members that work with us are trained and supervised to our highest standard. All sound and lighting equipment is purchase within the United States and complies to the safety standards. All lights such as laser lights
complies with
FDA
performance standards for laser products. For more information feel free to click on the link
http://www.fda.gov/radiation-emittingproducts/radiationemittingproductsandprocedures/homebusinessandentertainment/ucm118907.htm